Reminder: All program questions from homeowners (such as billing and rebate inquiries) should be directed to 877-524-1339 or DEGeneral@FranklinEnergy.com.
Energize Delaware Wins ENERGY STAR® Sustained Excellence Award for Fourth Straight Year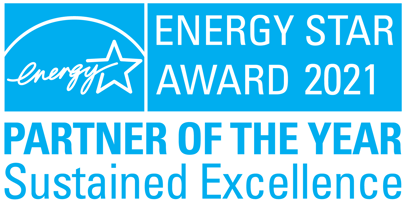 The Sustained Excellence award is the highest honor bestowed by the ENERGY STAR program. Winners are part of a distinguished group that has made a long-term commitment to fighting climate change and protecting public health through energy efficiency. They are among the nation's leaders in driving value for the environment, the economy, and the American people.

Winners are selected from a network of thousands of ENERGY STAR partners.
Contractor Updates and Reminders
Contractor Renewal Requirements
All Participating Contractors will be required to renew their registration in order to remain active within the program. This is an annual process that allows the program to receive updated documentation from all our Participating Contractors. Please log in to Efficiency Navigator and submit the required information and documentation relevant to your company's trade. All the documents you will need to upload are listed below or can be found within the Contractor Portal.  Once you reach Step 4 of Efficiency Navigator's registration process, please SCAN ALL YOUR DOCUMENTS INTO (1) FILE and upload where prompted.
If you are a NEW PARTICIPATING CONTRACTOR in the program and have registered within the past 90 days, you do NOT need to resubmit any documentation.
Downtown Development Districts
The Downtown Development District track of our Home Performance with ENERGY STAR Program serves homeowners and renters living within these districts. This program is currently offering a discounted customer co-pay of $25 for the home assessment, as well as elevated incentive levels.
Please be sure to confirm whether your customer sites fall within any of Delaware's Downtown Development Districts prior to the start of any HPwES projects located within the downtown sections of Clayton, Wilmington, New Castle, Delaware City, Middletown, Dover, Seaford, Georgetown, Harrington, Laurel, Milford, or Smyrna.
Please follow the link below to a District map that will help you identify the footprint of each Downtown Development District here in Delaware: Investments in Downtown Development Districts (arcgis.com)
Online Programs
Virtual Assessment
Energize Delaware has launched new online energy audit tool designed to help Delawareans with a quick and easy method to virtually determine if their home could benefit from energy conservation measures. Identify simple, low cost solutions to improve overall energy efficiency and save money!
The 10-15 minute, online survey provides customized energy saving tips and information. Visit https://www.energizedelaware.org/residential/free-virtual-assessment/ to learn more.
Online Marketplace
Energize Delaware has opened a new online marketplace for home efficiency products, with instant rebates available on select items at checkout. Available items include smart thermostats, LED light bulbs and advanced power strips, with new products added as they become available.
Visit https://energizedelawaremarketplace.com/ to shop now.
2021 All Hands Meeting
Energize Delaware and Franklin Energy would like to thank all our HPwES trade allies and partners that found the time to attend this year's virtual HPwES All Hands Meeting. We had the opportunity to share some important program updates and a glimpse of what's to come as we prepare to position the Program for another successful year. Please do not hesitate to reach out to the Franklin Team if you would like further clarification on any of the items we covered.
Please join us in congratulating our DOE and DESEU award winners!
*Winners completed over 100 jobs/projects or over 100 assessments in 2020.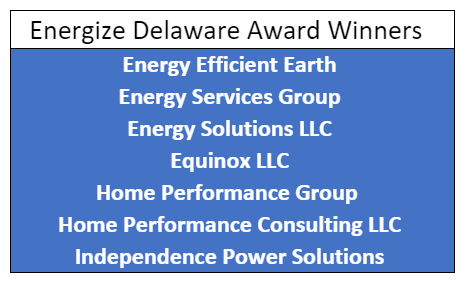 Logo Use Guidelines
The Energize Delaware logo has changed. Are you using the new logo?
As a market-based program, Energize Delaware's Home Performance with ENERGY STAR® Program welcomes and encourages Participating Contractors to promote awareness and interest of the Program and its offerings. To support this awareness and interest through contractors, the Delaware Sustainable Energy Utility will make the Program name and logo available to a Participating Contractor after signing this Logo Use Guidelines Agreement Form. To ensure proper use of the Delaware Sustainable Energy Utility Energize Delaware Program name and/or Program logo, any use of the Program logo or name must be carried out in accordance with the requirements and guidelines specified in the Agreement form. Email the signed and completed form to DEGeneral@FranklinEnergy.com and the logo will be emailed to you for use. Download the brand guidelines here