Reminder: All program questions from homeowners (such as billing and rebate inquiries) should be directed to 877-524-1339 or DEGeneral@FranklinEnergy.com.
Contractor Updates and Reminders
Meet the New Guys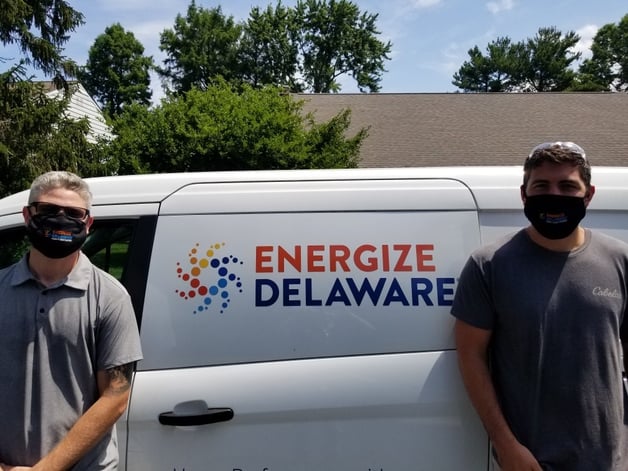 Please join the Franklin Team in welcoming our two newest members, Ben Burnett and Michael Woodock. Ben and Michael will be responsible for driving our QA/QC field operations for our Home Performance with ENERGY STAR Program. 
The Franklin Team intends to leverage the expertise of our new inspectors as we continue to promote best practices and offer customer service and technical support. As you begin interacting with both inspectors, feel free to ask questions and invite them to join you in the field.  
New Incentives Available!
Energize Delaware and Franklin Energy are excited to announce that new incentives are now available through our Home Performance with ENERGY STAR® Program! The goals of these new incentives are to help expand on the solutions we can offer our customers by 1) Further incentivizing whole-home ductless mini-split participation AND 2) Incentivizing whole-home dehumidification to promote the health and safety (and durability) benefits of humidity control.

Our teams have worked closely with the Best Practices Working Group to set in place effective incentive levels to help drive these goals. We look forward to seeing the impact they have and continuing to provide support to you TAs who serve as the driving force behind this program. Please do not hesitate to reach out to the Franklin Team if there are questions on how these new incentives will apply!
>> Read More about New Incentives
Online Programs
Virtual Assessment
Energize Delaware has launched new online energy audit tool designed to help Delawareans with a quick and easy method to virtually determine if their home could benefit from energy conservation measures. Identify simple, low cost solutions to improve overall energy efficiency and save money!
The 10-15 minute, online survey provides customized energy saving tips and information. Visit https://www.energizedelaware.org/residential/free-virtual-assessment/ to learn more.
Online Marketplace
Energize Delaware has opened a new online marketplace for home efficiency products, with instant rebates available on select items at checkout. Available items include smart thermostats, LED light bulbs and advanced power strips, with new products added as they become available.
Visit https://energizedelawaremarketplace.com/ to shop now.