Reminder: All program questions from homeowners (such as billing and rebate inquiries) should be directed to 877-524-1339 or DEGeneral@FranklinEnergy.com.
Contractor Updates and Reminders
All Hands Meeting
Scheduling in process. Details coming soon.
Updated Improvement Package
To our TAs performing energy assessments in the program, please inform customers that in order to receive rebates they must work with a participating contractor that is qualified to perform work in the program. We have included a new note that will generate on the Assessment Report underneath the Prioritized Improvement Package recommendations which will inform customers of this. We strongly encourage that you highlight this new note before sending out the report to eliminate any confusion.
Phone Numbers
For customers who have questions or need to call Energize Delaware's Home Performance with ENERGY STAR Program, we ask that they use our toll-free number, 1-877-524-1339. There they can speak to a live person who will be able to assist them and provide program guidance.
New Health & Safety Features Available **Attention Energy Auditors**
We have recently activated OptiMiser's Health & Safety section!
Mold issues?

Unvented bath fans?

Water heater failing spillage?
These high priority concerns can now be documented on your HPwES customer reports! These findings and your recommended fixes will now appear on your assessment reports within their own distinct Health & Safety and CAZ Analysis sections. Photo pages have also been made available for each of these sections. The Franklin Team will be offering 1-on-1 support to any TAs needing assistance with these new Health & Safety features!
>>Click here for additional Program Updates
New Online Programs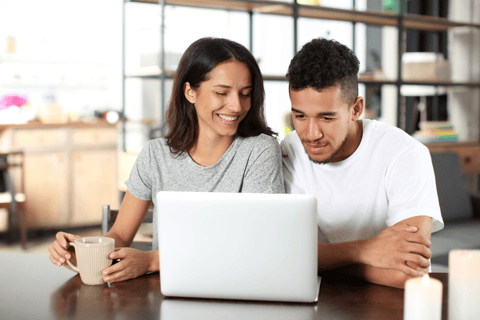 Virtual Assessment
Energize Delaware has launched new online energy audit tool designed to help Delawareans with a quick and easy method to virtually determine if their home could benefit from energy conservation measures. Identify simple, low cost solutions to improve overall energy efficiency and save money!
The 10-15 minute, online survey provides customized energy saving tips and information. Visit https://www.energizedelaware.org/residential/free-virtual-assessment/ to learn more.
Online Marketplace
Energize Delaware has opened a new online marketplace for home efficiency products, with instant rebates available on select items at checkout. Available items include smart thermostats, LED light bulbs and advanced power strips, with new products added as they become available.
Visit https://energizedelawaremarketplace.com/ to shop now.
Logo Use Guidelines
The Energize Delaware logo has changed. Are you using the new logo?
As a market-based program, Energize Delaware's Home Performance with ENERGY STAR® Program welcomes and encourages Participating Contractors to promote awareness and interest of the Program and its offerings. To support this awareness and interest through contractors, the Delaware Sustainable Energy Utility will make the Program name and logo available to a Participating Contractor after signing this Logo Use Guidelines Agreement Form. To ensure proper use of the Delaware Sustainable Energy Utility Energize Delaware Program name and/or Program logo, any use of the Program logo or name must be carried out in accordance with the requirements and guidelines specified in the Agreement form. Email the signed and completed form to DEGeneral@FranklinEnergy.com and the logo will be emailed to you for use. The Agreement form can be found in the Contractor Resources online at Microsoft Word - Logo_Guidelines_PDF_v01_082918.docx (hubspot.net).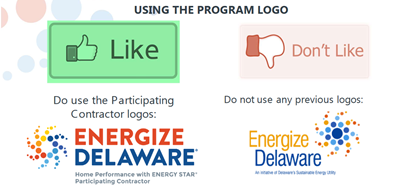 Home Energy Efficiency Loan Program
The Energize Delaware program would like to remind Trade Allies of the Home Energy-Efficiency Loan Program, this resource is available to qualifying Delaware homeowners looking to finance energy-saving home improvements.
Low Interest Loans (up to $30,000, at 5.99% APR for terms of up to 10 years for energy saving improvements) are an available resource that can be offered to clients: please download the Home Energy Efficiency Loan Program Brochure and provide to potential clients. It is highly recommended that for Energize Delaware projects where participants applying for rebates to have upgrades installed and are seeking financing options, be presented with the loan options available through Energize Delaware in prioritization over other external loan options. Further, there is an incentive opportunity for contractors that recommend loans to customers that complete the loan process. Currently that incentive is $200.00.